The Feb 4, 2012 DASH FOR CASH at SUNSHINE VILLAGE was another huge success!!! Our fundraisers brought in @ $40,0000 with more money coming in each day.

Top fundraiser was Matthew Hamer who scored big time by winning an RK Heli Ski day for two people, KARBON "orange u glad 2 c m" puffy jackets, Head Peak i78 skis and bindings, dinner at ROUGE Calgary etc., etc. WOW.

With teams from URSA (Universal Rehabilitation Services of Alberta) and the Rocky Mountain Adaptive Sports Centre, the Dash again saw some awesome adaptive skiers challenge the dual modified GS course on Strawberry.

Thanks to Victor Henning our ACA Official for ensuring our course was ready to go, racers had a great day of racing and spectacular weather!!!

Crazy Larry of the Bow Valley treated the multitudes with balloon hats and just made the day!!!

Thanks to Dennis Williams for his awesome guitar playing and singing - Our event just soared!!

Erin Parchoma did a stunning poster for this years event - and compliments were far and wide about the quality of this years poster!!!

The Sunshine Village Staff was fantastic, and the food by Steve Novak and Aramark and Chef Martin was fabulous!!!

Thanks to all our sponsors HEAD Ski, Karbon, Clif, Spalumbo's of Calgary, Rocky Mountain Soap Co, Kicking Horse Coffee, Kombi, Ski Canada Magazine, Aramark, Sunshine Village, Sleeman, Paul Mitchell Systems Hair products, Blistex, Castle Mountain, Mountain Image Distributors, Ski Cellar, Kuu Wax, Scott, UVEX, Giro, Smith Optics, and Alpine Alberta.

Photos from the 2012 Dash for Cash
FEB 4 2012 DASH FOR CASH SIGN UP NOW!
Special Guest JACE EVERETT!!! His song "Bad Things" is the theme for HBO's "True Blood" series!!! Jace will be the entertainment for our Friday night party and a celebrity coach for the Dash!!! See below for "FRIDAY NIGHT PARTY"
Come and Join Dave Irwin and family and friends at the 10th annual Dave Irwin Foundation DASH FOR CASH EVENT on Saturday Feb 4 2012 at Sunshine Village.
There will be tons of prizes for top funraisers (can you say skis, jackets, lunch, two fun races, lift pass, and more schwag than ever before).
Dennis Williams, our Banff fav musician will be playing at the Dash for Cash Saturday, Feb 4.
Dennis Williams and Swillbillies at Tin Horn Creek (YouTube)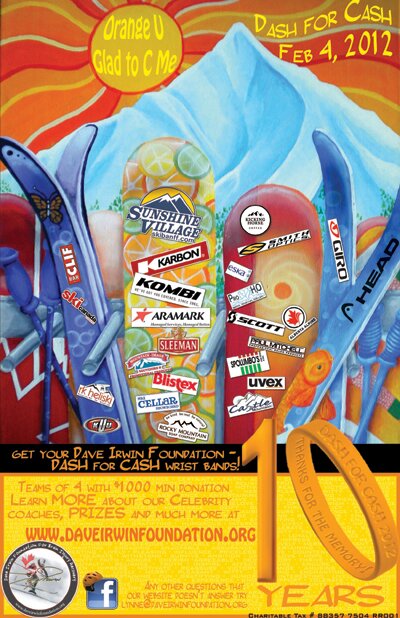 ORANGE U GLAD 2 C ME?
That's our theme for 2012! This was one of Dave's first sentences post head injury. His sense of humour and ability to communicate was in there somewhere, and hOpe, lOve and Optimism was paying off.

We'll be glad 2 C U so we can say "Thanks for the memory!"
NEW THIS YEAR!
CELEBRITY COACHES
FRIDAY NIGHT PARTY
2012 Entry Information
2012 Donations Collected Form
2012 Event Schedule
2012 Team Entry Form
2012 ONLINE (new!) Team Entry Form

Book before Jan. 15 for a special room rate at Sunshine Village. A room for 2 for $176 per night. Phone 403-705-4000 or 1-877-542-2633 and tell them you'll be in the Dave Irwin Dash for Cash fundraiser.

Photos from the 2012 Dash for Cash

Photos from the 2011 Dash for Cash

Photos from the 2010 Dash for Cash

Photos from the 2009 Dash for Cash

Photos from the 2008 Dash for Cash

Photos from the 2007 Dash for Cash

Photos from the 2006 Dash for Cash
2011 DASH FOR CASH RAISES

$58,319
The Dave Irwin Foundation for Brain Injury would like to thank all the donors, participants and volunteers, Aramark Foods, and particularly Mr. Ralph Scurfield and all the staff at Sunshine Village Banff for making this our MOST successful event EVER
Despite the incredibly snowy and blowy conditions - Stewart Laver and his incredible ski school staff managed to set a great dual course. With George Kay and Brad Freer in the start gate, and Lynn Kay in the timing shack at the bottom the event went like clockwork!!!!
TOP FUNDRAISER - Morag Armit - winning a pair of Oakley Jawbone sunglasses courtesy of Shades on Caribou, Banff, Canmore

TOP FUNDRAISING TEAM $8,700- Tartan Terrors, Vladmir and Marta Pierimarchi, and Gavin and Henry Culver - winning 4 PAIRS OF ATOMIC NOMAD SKIS AND 4 KARBON SKI JACKETS
It was a close race for second place, at $8,660 only $40 separated the top fundraising team from the Invermere team 'PEG LALOR ROCKS'. Third place team SWEETHEARTS OF THE RODEO raised only $100 less than PEG LALOR ROCKS at $8560. Wow What a day!!!
Please click here for the timed results
With much thanks to Dennis Williams for his amazing voice and guitar playing - our participants were fortunate enough to have great music to listen to throughout the event. Watch for Dennis' new CD Lonesome Road to come out shortly!!!!
We Look forward to seeing you all back in 2012 for another amazing event!!!!
Dash for Cash Feb 12 2011 Sunshine Village.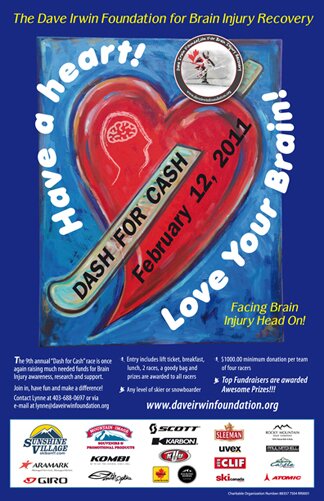 (Click for Full Size Poster)
The 2010 Dash for Cash at Sunshine Village raised $40,000! The SUNSHINE DASHERS were the top fundraising team winning FOUR PAIRS OF ATOMIC SKIS and Matt Hamer of Canmore won top fundraiser for the third year in a row
Dave Irwin and Lynne Harrison were in Collingwood, Ontario at Osler Bluff's Pete Crompton Foundation Fundraiser on March 5, 2010. Judy and Jeff Crompton held the 7th annual Pete Crompton event in honour of the memory of Pete Crompton and most recently Ken Crompton. This annual fundraiser presented a cheque in the amount of $25,000 to the Dave Irwin Foundation for Brain Injury